The boys, the park, the footy, the sunshine - the simple pleasures.
In the interest of keeping our colds to ourselves, we... well, kept our colds to ourselves this weekend.
Once I got past my reluctance to let people down and my aversion to cancelling anything if I can avoid it,
it was a good feeling being commitment free.
The result was some lovely, quality family time, a few beautiful doses of vitamin D and hopefully enough down time to bore the bugs away.
If I'm not careful, this 'yes' woman might just become accustomed to the slower pace around here.
Linking with Lou's Point + Shoot.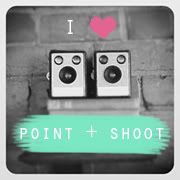 Headless chook or more semi-comatose chicken?