Bells Rapids - not so 'rapid' in 2012
For 16 of his, ahem, 21 or so years my Hubby has competed in an international white water endurance event called The Avon Descent here in WA.
This event is sometimes known as The 'Avon Divorce' in the smart-alec wifey circles that I like to associate in.
The Avon is a huge commitment in training terms - but also seems to consume a man's every thought (not to mention finances) for weeks and render him unable to speak about anything else for longer than ten seconds.
Whilst the lead up to the Avon is sometimes a tad fractious on the family front,
the weekend itself is one I really look forward to.
Once I realised, a few years ago, that support crew are prone to abuse/neglect
and adjusted my expectations accordingly - I've always enjoyed the experience.
Magoo and I only joined in the fun on the Sunday this year - and only in a cheer leading capacity.
My front-heavy status deemed me a tad too clumsy (read 'useless') for scrambling across rocks, onto river banks and over fences this year.
So with little responsibility or pressure and a beautiful dry day, Magoo and I had a wonderful time visiting a few vantage points along the way.
(

Hubby was obviously fortunate enough to secure a sponsorship this year - can you guess who?)
7am - slightly keen
9am - what do you mean 'selling out'?
11am - happy riverside
1pm - Daddy spotting with Grandad
1pm - preparing for a pit stop and more riverside repairs
With hideously low water levels and a run of bad luck, Hubby did not have such a wonderful time though.
Linking with Lou's Point + Shoot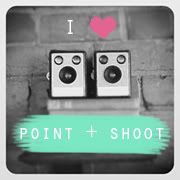 Any battle scars/interesting chafe to share this Monday?
4.30pm - war wounds