It only dawned on me yesterday that the previous few days had actually been the weekend.
A long one, even.
This is because I'm lucky enough to be on one perpetual, never ending (well, not yet anyway) weekend here.
Since wrapping up school in December, I've struggled to keep track of the days and have been permanently switched to holiday mode.
Our 'official' weekend kicked off on Friday with our annual street party to celebrate Christmas, New Year, fabulous neighbours, sunshine, food, alcohol, clean air, clear water or anything else you might like to toast.
On Saturday we sang hymns of praise (that may have included some profanity) that Magoo was indeed a well boy again and we could venture down to join friends at their holiday home for New Years Eve.
Once again, we celebrated all the goodies life has to offer - including shiny ones like sparklers, fireworks and glow sticks. We continued to consume enough food and drink to cater for a small nation and laughed ourselves stupid with great people who were embracing 2012 with open arms.
Sunday was an extension of Saturday, really - with some down time back at home in the mix to recuperate.
On Monday, we had ourselves a gorgeous little family day at the zoo, some driveway chalk graffiti action (with plenty of H), a quiet bbq and the 'de-Christmassing' of our place.
I think the best part is - we don't have to wait another five days to do it all again.
Holidays are heavenly.
Are yours treating you kindly too?
Linking with Mandy's Sentimental Summer series.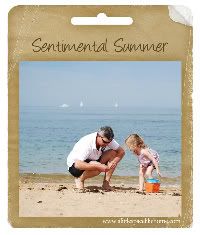 Who doesn't want to soak up these Summer days - and thooooose Su-u-mm-er ni-ig-hts?!!
Shar :-)